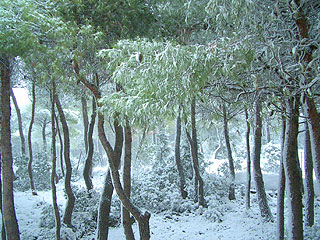 Non-residents of Greece often consider the place to be a utopia of perpetual sunshine and deep blue skies. This misconception is supported by summer visits to the country, when sunshine and blue skies are the norm. The photo was taken from a balcony of house near Athens this morning. There was a high of 18°C when I arrived on Monday, but it's been snowing through the night, so now we are snowed in. In conjunction with the taxi drivers' strike, the snow might foil my plans to go watch Human Touch play at a jazz bar tonight.
I ventured out yesterday, making it as far south as Kifissia experiencing a mild case of culture shock. There is a sense of not belonging, which was exacerbated by the minute number of people who live here and I have kept in contact with. My brief exchanges with shopkeepers were awkward, as if Greek were a second language. But there are things that always feel right, like souvlaki.
After my last visit here I waxed lyrical about changes and progress. So far, my experiences from the current trip negate that view. On the bus to Kifissia I sat next to Mitsos the mustachioed builder, who conversed on his mobile phone incessantly (apparently to women who wanted to marry him; respondents to a personals ad perhaps) by alternatively placing the phone to his ear and then moving it to the front of his mouth to talk. That was only one of many details that reinforced the comfortable thirdworldiness of Greece and made me think I have not missed out on much after all.
I want to know what is happening here with respect to design. I bought an issue of Δημιουργία+Design that was as underwhelming as its website. Where else should I look? Anyone?